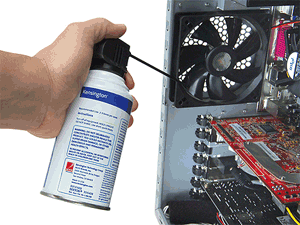 Are you keys sticking? Is your laptop starting to look a little grungy? Well maybe it's time you give your laptop a good cleaning. Every computer requires a cleaning once in a while, and that includes your laptop. Laptops actually require a little more cleaning that a standard computer because they are handled more. The list below includes the steps you will need to take to get your laptop looking shiny and new.
Supplies that you'll need to gather up:
Lint free cloth
Mild Dishwashing Detergent
Can Of Compressed Air
Isopropyl Rubbing Alcohol
Before you start, make sure to power down your laptop and unplug it from the wall. If you laptop has a battery make too sure remove that if your model also you to.
The first area you should start cleaning is the lid and bottom of the laptop. Start by mixing a couple drops of dishwasher detergent (such as Dawn) and a couple cups of warm water together, now dip your lint free cloth into the mixture, wring out, and wipe the surface. Rise your cloth with clean water and wipe down again. Lastly, take a dry cloth and wipe down laptop to avoid water streaks.
The next step you should take is cleaning your keyboard, but be sure not to let any liquid drip down into the keyboard. Take your compressed can of air and use that to remove any dirt, dust or crumbs that could be in the crevices of the keyboard. Next, use the isopropyl rubbing alcohol to wipe down your key board to remove any oily residue.
Last but not least, it's time to clean the vents. If your laptop has large side vents you'll most likely find some dust bunnies there.  Use your compress can of air to blow the dust out of the vents. By getting rid of excess dust and debris it will not only make your laptop look much better, but it will run better too.
If you are having any problems with the way your computer is preforming, contact Up & Running Computer Solutions in Corona, CA at 951-737-8558 or visit our website at www.urcs.net for more information.
Proudly serving Corona, Riverside, Anaheim, Irvine, Newport Beach, Tustin, and all surrounding areas.