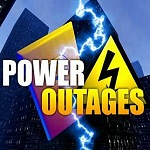 Power outages can be devastating to your computer. Not only can you lose files, but your computer itself could be at risk for severe damage. If this happens seek immediate computer repair. If you are lucky enough to have your computer make it through a power outage, you still won't be able to use it, nor extract important files from it. A UPS or uninterruptible power supply can aid in power outages.
A UPS is a battery containing device that supplies back up power to your computer in case of a power outage. The battery allows for you to keep working during a power outage or at least give you an opportunity to shut down your computer properly without losing data, thus saving you money from costly computer repair. They also work well during brown outs and electricity spikes.
The UPS will come with power management software that can be configured to sense an outage and safely shut your computer down in the event you are not in front of your computer at the time. You can also set your computer to come back on when power is restored. This works well when you are accessing your computer from another location.
If you need help purchasing a UPS or your computer has been damaged by a power outage, call Up and Running Computer Solutions, Inc. in Corona, CA for help. Our experienced and trained technicians can help with any computer type purchases or computer repair problems you may need. Call today 951-737-8558 or visit our website at www.urcs.net.
Also servicing Riverside, Anaheim, Irvine, Newport Beach, Tustin and surrounding areas.