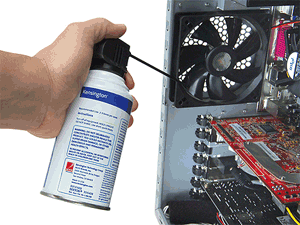 Just like cars, boats and homes, your computer tower too needs a good deep cleaning every now and then. According to sources, your computer tower should be cleaned at least three to six months to prevent dust build, which can cause your computer tower to overheat. By eliminating debris and dust buildup will increase your computers overall performance and will keep it preforming smoothly. We here at Up and Running Computer Solutions have complied a list of a few simple steps you can take to clean your computer tower, which include the following:
1.       Gather up a soft brush, can of compressed air, electronic safe wipes, a vacuum and a screw driver to remove the computer towers panel.
2.       Be sure to shut down your computer, unplug cords from any outlets, and let the computer cool down before you start cleaning it.
3.       Begin by wiping down the outside of your computer tower with the electronic safe wipe you collected, then proceed by gently and carefully vacuuming out the computer towers vents.
4.       Next, remove the panel from your computer tower and cautiously vacuum the inside of the towner, be extremely careful not to touch any of the computers components.
5.       Now that you've vacuumed the loose debris and dust, take the soft brush and brush away of the remaining debris and/or dust. For the extra dusty areas you can use the can of compressed to help loosen the debris.
6.       Finally, replace your computers panel and plug back in the cables. Now your computer tower should be all cleaned up and ready to go!
There are many advantages that stem from cleaning your computer tower on a regular basis. Debris and dust buildup is one of the main factors that cause a computer to overheat, so don't but your computer tower cleaning on the back burner.
If you suspect your computer may be damaged from excessive debris and dust buildup, contact Up & Running Computer Solutions in Corona, CA at 951-737-8558 to get your computer back up and running in great condition. For additional information regarding the sevcies we offer visit our website at www.urcs.net.
Proudly serving Corona, Riverside, Anaheim, Irvine, Newport Beach, Tustin and all surrounding areas.