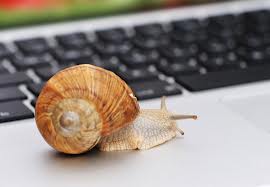 We use our laptops constantly because they move along with us through our daily life and the convenience factor is tremendous. But have you noticed that your laptop has begun to feel dirty? Perhaps some keys stick a bit more than before. If this is the case, it may be time to give your laptop a bit of a spring cleaning in summer. Every computer needs to be cleaned, but because laptops are so convenient, laptops require a cleaning more frequently. And since we talked about cleaning our computer towers last month, let's get to cleaning our laptops with these simple steps:
Before you start, make sure to power down your laptop and unplug it from the wall. If your laptop has a battery, make sure to remove that as well. The first area you should start cleaning is the lid and bottom of the laptop. Mix a couple drops of dishwasher detergent with warm water and wipe the surfaces down with a lint-free cloth. Rinse your cloth with clean water and wipe down again before taking a dry cloth to dry.
Next comes the keyboard. NOTE: Be sure not to let any liquid (of any kind) drip down into the keyboard. Take your compressed can of air to remove any dust or crumbs in the crevices of the keyboard. Next, use the isopropyl rubbing alcohol to wipe down your keyboard and remove any residue.
Lastly, the vents. If your laptop has large side vents, you'll most likely find some dust bunnies there. Use your compressed can of air to blow the dust out of the vents. By getting rid of excess dust and debris it will not only make your laptop look much better, but it will run better too.
Call Up & Running Computer Solutions in Corona, CA for help with your computer issues at 951-737-8558. Learn more at our website at www.urcs.net.
Up & Running Computer Solutions proudly serve Corona and all surrounding areas.