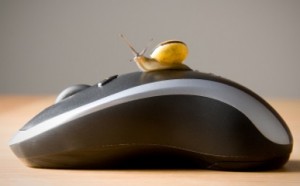 Have you noticed your computer running a little slow lately? Does it take a while to boot up or open documents or applications? A slow computer could be caused by several different problems. Let's take a look at some of the most common reasons.
Limited space on hard drive: You should have at least 200-500MB of hard drive space left.  If you have below that amount you will need to delete temporary files and used files or programs to free up some hard drive space.
Corrupted Hard Drive: Run a ScanDisk to ensure there is nothing physically wrong with the hard drive.
Viruses: Use a virus scanner to scan your computer for spyware or malware.
Programs that open in the background: Disable all programs that automatically start when you boot your computer.
Windows Updates: Make sure you have installed all the latest Windows updates and all browser plugins.
Overheating: Dust and dirt restricts air flow through the computer. Without proper air flow your computer can overheat. Make sure there are no obstructions around your computer and that all fans are working properly.
Limited Memory: If you have an older computer the memory might not meet the standard requirements needed today. Adding more memory will fix this problem.
Working on your computer can be difficult. Especially if you are not familiar with how computers work. That's why we are here to help! The IT Services of Up & Running Computer Solutions, Inc. can repair your computer or server. Call today at 951-737-8558 or www.urcs.net.
Proudly serving Corona, Riverside, Anaheim, Irvine, Newport Beach, Tustin, and all surrounding areas.