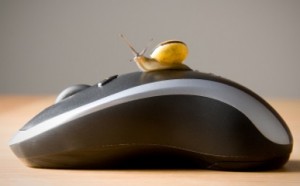 One of the most common issues that arise with computers today is when they start to become slow and sluggish.  When your computer starts to slow down, and take for what seems like an eternity to open a document or application, you may sometimes starting getting impatient and feel like pulling your hair out. But please refrain from doing so and take a look at the following reasons why your computer may be slowing down to gain some understanding and insight:
Limited Space- One of the main keys to a fast functioning computer is free space. The more free space, the quicker your computer will be. Make sure to clean up any old or unwanted files to keep as much spaced freed up as possible.
Too Many Programs Running- Another reason for a slow computer may be because you have too many applications or other programs that run in the background. The more programs running, the more difficult it is for your computer to "focus" on the task you want to be completed.
Overheating- If your computer is covered in dust that may be the reason it's running slower. Dust and dirt constricts the air flow through your computer, and without proper air flow your computer can overheat.
Fragmented Hard Drive- Another common reason for a slow computer is a fragmented hard drive disk. Once the disk is fragmented it takes about 10 times longer to read and write basic information.
Viruses- There are all sorts of viruses out there ready to "attack" and slow down your computer. Some viruses include ransomware, at type of virus that wants money to free your computer, and other viruses could just be running in the background. So if your computer is running slower than usual, you may have a virus.
Computers can be quite difficult to work on, especially if you don't know how they work. If you have a slow computer that needs some working on, contact Up & Running Computer Solutions in Corona, CA at 951-737-8558 or visit our website at www.urcs.net for more information.
Proudly serving Corona, Riverside, Anaheim, Irvine, Newport Beach, Tustin, and all surrounding areas.