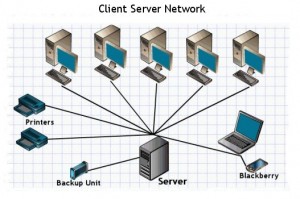 Having a computer network set up at your business only benefits the business and employee productivity. Networking is about sharing. With a computer network you can share information, resources, applications, emails and office documents.
A large hard drive is set up on a central server computer where a common storage area is used to store files that can be shared throughout the office. Individual files can be worked on between several employees without having more than one document created. All users can share the one document and have access to it when they need it.
Printers, scanner and other external devices can be used by all employees. No more need to have a printer on every employee's desk. This saves you money. With the money you save not having multiple printers, etc. you can invest in one piece of high quality equipment.
Also, different applications can be used by all employees. For example, accounting software, data entry software, etc. can be seen and used by the whole company. Don't want all employees to have access to all programs? Not a problem. Permissions can be given for only those employees chosen to access those programs.
Thinking about setting up a network at your office but don't know where to start? Call us at Up & Running Computer Solutions, Inc. at 951-737-8558. Visit our website at www.urcs.net.