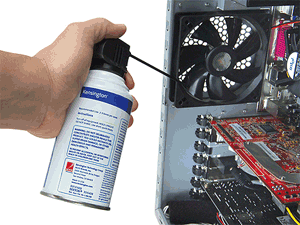 Your desktop computer draws in cool air and blows out hot air. When it's drawing in the cool air it's along bringing with it dust, pet hair, and other dirt particles. This can be damaging to your computer requiring computer repair. The debris build up, inhibits your computer's ability to keep cool. If your computer is running hot it will not perform to its potential and run very slowly. You should clean your computer every 3-6 months.
Here's how:
Gather a soft brush, can of compressed air, cleaning cloths and a vacuum with a nozzle attachment.
Turn your computer off, unplug cables and let it cool down.
Start by cleaning the outside of the computer with a cloth, then vacuum vents and ports.
Take off the side of your computer and vacuum all dirt and dust out of the inside. Be careful not to touch any components.
Take your brush and start brushing any remaining dust. The can of compressed air can help with the extra dirty areas.
Replace the side to the computer, plug back in your cables and it's clean and ready to be used!
If your computer was damaged due to excessive dirt call the IT Services of  Up & Running Computer Solutions, Inc. at 951-737-8558. We service and repair computers and servers for businesses large and small. Visit our website at www.urcs.net.
Proudly serving Corona, Tustin, Irvine, Anaheim, Riverside, Yorba Linda and all surrounding areas.